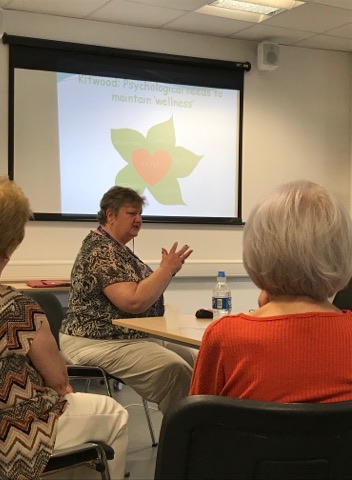 Free training for informal or family carers affected by dementia throughout Staffordshire and Stoke-on-Trent.
Training to a variety of organisations bespoke to their needs to increase dementia awareness and promote dementia friendly organisations and communities.
Approach Dementia Support believes everyone who is affected by dementia should live their lives the way they choose. We provide various services in which we help to support this including our training sessions.
The free training for informal or family carers is a 3 part course with focus on developing an understanding of dementia, the important early indicators, the effect upon immediate family and friends and the management of challenging behaviours through a person-centred approach to care. This training is delivered either as online training via Zoom (9 weeks for one hour per session) or face-to-face (3 weeks of training for 3 hours per session).
Training for organisations varies from a one hour 'Introduction to Dementia' to a two, or three hour, in depth session which offers an insight into the various forms of dementia, signs and symptoms, organic causes of the diseases, hints and tips on how to work with someone with dementia and advice on the effective handling of a variety of situations. Please contact us for details of cost and availability about our bespoke training sessions for your organisation.
Dementia does not just affect older people; younger people can be affected too. With access to the right support, people with dementia can continue to live happy and active lives for many years. Our training sessions raise awareness about dementia and also help others to understand how the disease affects those who have been diagnosed and their carers and families. Please get in touch today for more information about our training sessions.
Telephone 01782 214999