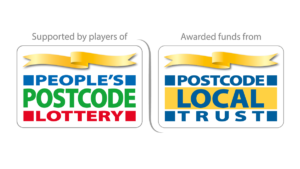 We are delighted to have received £20,000 in funding from the People's Postcode Lottery's Postcode Local Trust!
The Postcode Local Trust supports charities and good causes to make a difference to their community for the benefit of people and planet.
Players of People's Postcode Lottery have funded good causes in every postcode area in Britain.
Funding from the Postcode Local Trust will mean that Approach can continue to develop its services to improve the wellbeing of people affected by dementia across North Staffordshire and Stoke-on-Trent.
Thank you to the People's Postcode Lottery and the Postcode Local Trust for your support!
To find out more about Approach's services, click here.
To find out more about the Postcode Local Trust, click here.